Trolls, Imps, Elves, Ogres, dragons, fantasy, OOAK, dolls, one of a kind, whimsical, Ed Asner

Welcome to Roo's Fantasy Village. Where my little fantasy creations take on a whimsical personality of their very own.

Trolls, Imps, Elves, Ogres ?......What are they?..........Anything you want them to be. But, whatever they are, they will surely put a smile on your face.
---
Once upon a time, there was a tiny place called "Packrat Village".
In this little place are collectors of the forest floor. Collecting what the campers and hikers drop or leave behind.
You would be surprised as to what treasures are in their tiny huts.
---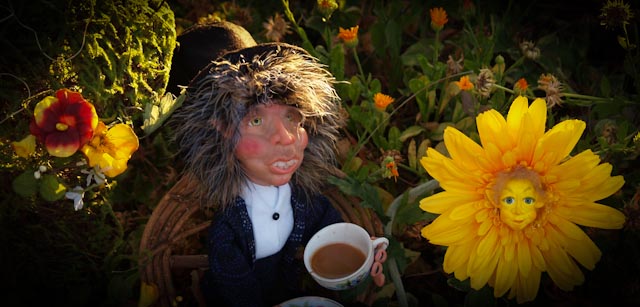 Prices are calcuated by the amount of hours and days it takes to find and catch them. Each of these little creatures are all unique and different in their own way, and once they are gone, you'll never see them again.

I cannot plan ahead of time, which creatures I'll catch, because there's no way of knowing who's going to pop out next.

Their head, hands and feet are lovingly made of clay and gently fired. Once cured, their dressed with soft bodies and handmade clothes with just a touch of love added to bring them to life.
---
Please note:
Shipping varies on all my items. If for some reason, shipping is less, I will refund the difference.
---
Below are my creations that are currently for sale. To see past works, click on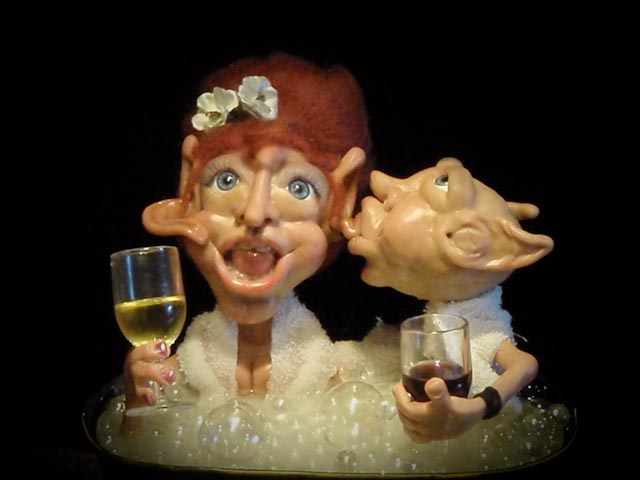 ---
Steampunk Forest Elves

Yes, Steampunk is also in the forest. These two little Steampunk Forest Elves scurry around the forest floor, collecting what they can . When the other forest elves need something fixed, they see these two.

Mr. Gear and his sidekick, Bolt.
$90

This entire piece is 23"H x 9"D x 9"W
---
This is Lillian the Legend keeper.
No one knows just how old she is, but she knows all the secrets of Pack Rat Village. When someone needs information, she's the one to see.

$40
Lillian is 10"T x 4" x 4"
---
This is MOSS
He's a very sweet little guy, sitting in his stacked pots, he sells herbs to all the forest creatures.

Moss is only 9" H x 4" W


$38.00
---
MEET PADEOUS THOREAU. FOR CENTURIES HIS FAMILY HAS KEPT THE ALGAE IN ALL THE PONDS AND STREAMS THRIVING. OVER TIME HIS FAMILY HAS BECOME A LITTLE LIKE THE FROGS AND POND DENIZENS SO THEY CAN MOVE THROUGH THE WATER EASILY.

AFTER ALL SOMEONE MUST MAKE SURE THERE IS PLENTY OF ALGAE IN THE WATER TO FEED THE TADPOLES AND NEWLY HATCHED FISH. IT'S A VERY IMPORTANT JOB BUT TENDS TO BE A SLIPPERY SLIMY ONE THAT TURNS TOES GREEN AND SENDS THE TADPOLE BABIES INTO A FRENZY TRYING TO NIBBLE AT HIS TOES AS HE WADES THROUGH THE SHALLOWS.

$50.00

Padeous stands under a large lily pad.
The whole piece is 16" H x 8" W x 9" D
---
Her name is Honey and as you can see,
she collects honeycombs, wasps nests, etc.
Just bearly touching down on her toes,
she grabs and flutters off again.
Honey is 11" H x 9" D,
but to the top of the flower is about 18" H

$48.00
---
This is Slider


He's very sweet, but you never know where he will show up.
Slider is half slug and half bug.
He takes over empty spaces, like this piece of driftwood.


From the top of his tiny antennas to the bottom of the log,
he measures 7 1/2"H x 12" W

$38

Bling is also very cute, but she gets into trouble a lot, so she was tricked and caught up in this tiny sparkly cage.

Blings cage measures 5"H x 3"W
but Bling is only 2 1/2"T

$28
---
THIS IS IVY, ON HER WAY TO THE GWC
(GOOD WITCHES CONVENTION) .
SHE'S VERY POPULAR AMONG THE FAIRIES AND WHITE WITCHES FOR HER NEW AND CREATIVE "IVY'S INCANTATIONS".

Ivy is a large piece, with goodies in her front and back baskets.
Included is her elfin helper, holding bottles of supplies for potions.

$225
---
This little nanny is on her way to the next elfin house in the forest. With her little bag packed full of her "time out" tools, this nanny is in high demand.

$50.00

The Nanny is 12"H x 6 1/2"W
---
With their hair blowing back, and holding on for dear life, these two little imps are screaming their heads off, as they enjoy the spinning Teacup Ride of the forest.

$60.00

10"W x 12"H x 6"D
(each doll sits about 4" high)
---
Jester is a funny guy. That's what he does. With his cute little compact body and his striped socks, he (like the others) will put a smile on your face every time you look at him.

Jester is 9" H x 9" W

$50.00

 
---
This is Firefly.
With that crazy flittering from flower to flower, Firefly is a happy little firefairy.

$50.00

From the base,
Firefly is 17 1/2" H x 13" W x 12" D
---
This is Cago Philist, which means, collector of keys.
You just THINK you lost them while you were camping. He's such a little stinker.

Cago stands 10 1/2" H x 3" W


$40.00
---
Fiddle is his name and pluckin' is his game.
Another little fellow from Packrat Village, steals feathers from wherever he can. But now, he's taking a smoke break with his friend Slug.

$55.00
Fiddle has a posable body and is 10 1/2" Tall. However, now that he's joined his friend Slug on the mushrooms, the whole piece is around 14" H x 12" W x 8" D
---
This is "Queue" and he's the tiny little guy you have to watch for when you order a bowl of rice.

Queue is 4 1/2" H x 4" around
$22.00
---
This is Fonda.
She's in her little exercise outfit and ready to go.


Fonda is 12" H x 7" W


$45.00
---
Be careful what you wish for.
This little guy will only give you three.

"Jinn" is $40.00

5"D x 11 1/2"W x 11"H
---
Being just a little larger than my fairies, "Hugame", with his large hands, is ready to give you a great big hug.

  $25.00
Hugame is 5"W x 5 1/2"T
---
This little guy isn't a pyromaniac, he's the Village, keeper of the flame. His name is
"Kindling"

$30.00

Kindling is 8" H x 8" W
---
This elfin husband is waiting for his wife, after a very
thought out plan for their Anniversary.

So that's why I named it,
"The Anniversary".

24" tall x 10" wide

$80.00

This piece is VERY heavy and should not be shipped.

As she climbs the chair, she can taste that wine.
---
Her hair is now grey, but she's still trying to find her Prince.

I'm naming her Sally. Just how many frogs will she have to kiss?

Sally is one of my larger dolls and her frog friend is also handmade.

$150.00

Sally is 24" Tall and her base is
9 1/2"W x 16" D 
---
---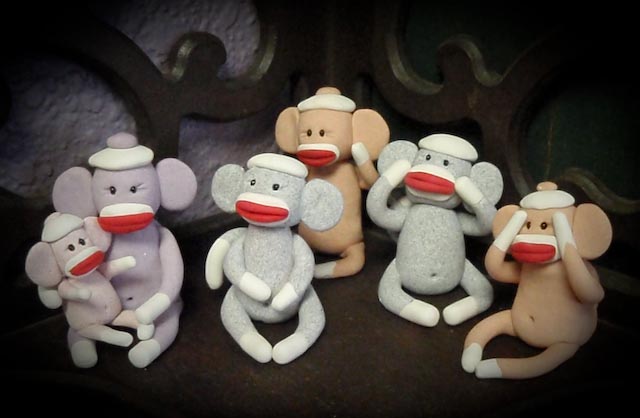 Sock Monkey's everywhere !
---
---
Other

L
I
N
K
S

Other

L
I
N
K
S