Trolls, Imps, Elves, Ogres, dragons, fantasy, OOAK, dolls, one of a kind, whimsical, Ed Asner

Welcome to Roo's Fantasy Village. Where my little fantasy creations take on a whimsical personality of their very own.

Trolls, Imps, Elves, Ogres ?......What are they?..........Anything you want them to be. But, whatever they are, they will surely put a smile on your face.
Wow, you better get your pumpkins soon, because the goblins are taking over.
---
Once upon a time, there was a tiny place called "Packrat Village".
In this little place are collectors of the forest floor. Collecting what the campers and hikers drop or leave behind.
You would be surprised as to what treasures are in their tiny huts.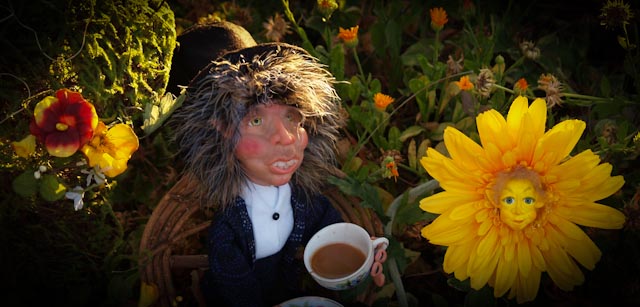 Prices are calcuated by the amount of hours and days it takes to find and catch them. Each of these little creatures are all unique and different in their own way, and once they are gone, you'll never see them again.

I cannot plan ahead of time, which creatures I'll catch, because there's no way of knowing who's going to pop out next.

Their head, hands and feet are lovingly made of clay and gently fired. Once cured, their dressed with soft bodies and handmade clothes with just a touch of love added to bring them to life.
---
Please note:
Shipping varies on all my items.
If for some reason, shipping is less, I will refund the difference.
---
Below are my creations that are currently for sale. To see past works, click on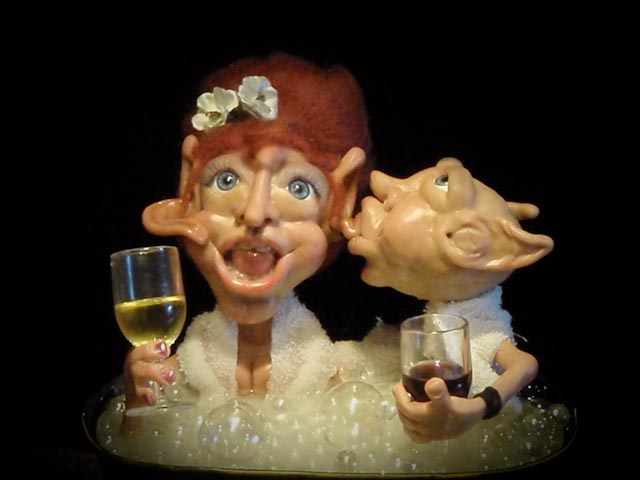 Please bear with me........I will be adding new dolls soon !
---
Meet "The Traveler".

She's a tough little elfin chick, with her bedroll behind her back and her cage, just in case she finds anything interesting along the way. If the other elfin creatures in the forest need anything, she will travel from forest to forest and find it for them.

$58
---
This funny looking little elf is Zeb, a planter. With his sidekick Buzz the pollinator, they are the cutest pair in the forest.

$55

This Imp will hitch a ride on anything. She the smallest wrangler in the forest. Watch out for a Fly By

$28
---
Agnes is one of the sweet old fairies that is still buzzing around the forest. As you can see, she loves pink.

Agnes is $48
---
This is Luigi and he's ready to start cooking up something wonderful. He's the perfect addition to any happy kitchen.

$52
---
This is Ladybug and she's a sweet little thing.
Seen here with her friend Daisy,
as she just stopped by to say, "Hi".
Daisy was Ladybugs very first landing and
they haved stayed special friends ever since.
---
CAGED
is what this little guy is.

The witch that lives just outside the forest has captured him and is holding him for ransom. With his little hands to the sides of his ears, he's listening for someone to come rescue him. I'm sure he would love for you to take him home.

$50
---
Meet Sweet Sid
He is one of the best handymen in the forest.
Sitting here with a little faucet handle, he's ready to fix one of the gnome homes.

Sweet Sid
-SOLD-

Happy Birthday Laura
---
Look what we found in the garden today.

The next time you are in the garden, and you see a butterfly, don't just ignore it. Look really close.
It may not be what you think.

Yes, baby pigs do fly and this one is Amelia.

$38
---
This is Lars.

He dressed special because he wanted to make an impression on his daughters first date.

Lars is $85
---
This is the forest daredevil. Everyone thinks he's crazy, but he's really just a little Dingy.

Dingy is $50
---
Here he is, the Time Keeper and he's just as cute as can be.

However, If you are camping, don't leave your clocks behind, they will be confiscated by this little guy.

Time Keeper
$48
---
Frog-O- Diva is out of the pond and washing her hair. So she's not the prettiest imp in the forest, but this is the outcome, when a handsome frog woos one of the imps in the forest.

$48.00
---
Bubble time in the forest?
Yes, even the wee one's need a relaxing time out
and this little gal looks like she's enjoying her bath.

$48
---
Changing Seasons
Yep, that's what's happening.
She's shedding her winter wings and flowers are blooming all around her.
Don't be sad, because she will do it all over again next season.


Changing Seasons is
$48
---
This is a large piece
22 1/2" L x 11" H x 7 1/2" W

The Harvest

Emmett the overseer and Axel his grandson who's in training, are racing thru the forest trails.

Axel and Emmett hurry to deliver the days produce to their tribe members.

Emmett always worries about Axel and his need-to-speed

but Axel is careful because of his precise training and he's honored to be allowed to drive Emmetts best team.

 

-SOLD-
---
---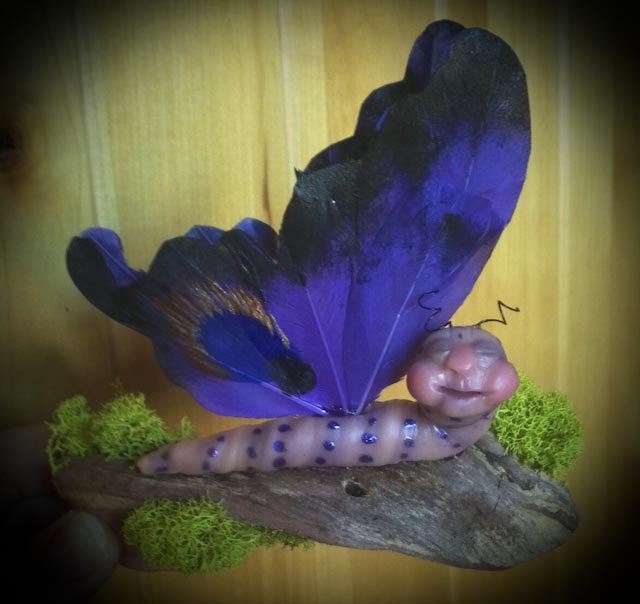 ---
Other

L
I
N
K
S

Other

L
I
N
K
S