Trolls, Imps, Elves, Ogres, dragons, fantasy, OOAK, dolls, one of a kind, whimsical, Ed Asner

Welcome to Roo's Fantasy Village. Where my little fantasy creations take on a whimsical personality of their very own.

Trolls, Imps, Elves, Ogres ?......What are they?..........Anything you want them to be. But, whatever they are, they will surely put a smile on your face.
Wow, you better get your pumpkins soon, because the goblins are taking over.
---
Once upon a time, there was a tiny place called "Packrat Village".
In this little place are collectors of the forest floor. Collecting what the campers and hikers drop or leave behind.
You would be surprised as to what treasures are in their tiny huts.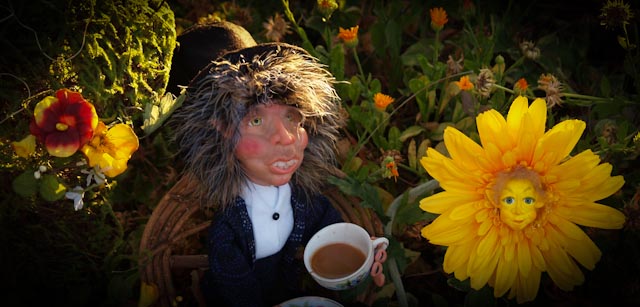 Prices are calcuated by the amount of hours and days it takes to find and catch them. Each of these little creatures are all unique and different in their own way, and once they are gone, you'll never see them again.

I cannot plan ahead of time, which creatures I'll catch, because there's no way of knowing who's going to pop out next.

Their head, hands and feet are lovingly made of clay and gently fired. Once cured, their dressed with soft bodies and handmade clothes with just a touch of love added to bring them to life.
---
Please note:
Shipping varies on all my items.
If for some reason, shipping is less, I will refund the difference.

International shipping is ALWAYS higher, please email me for shipping outside the U.S.A.
---
Below are my creations that are currently for sale. To see past works, click on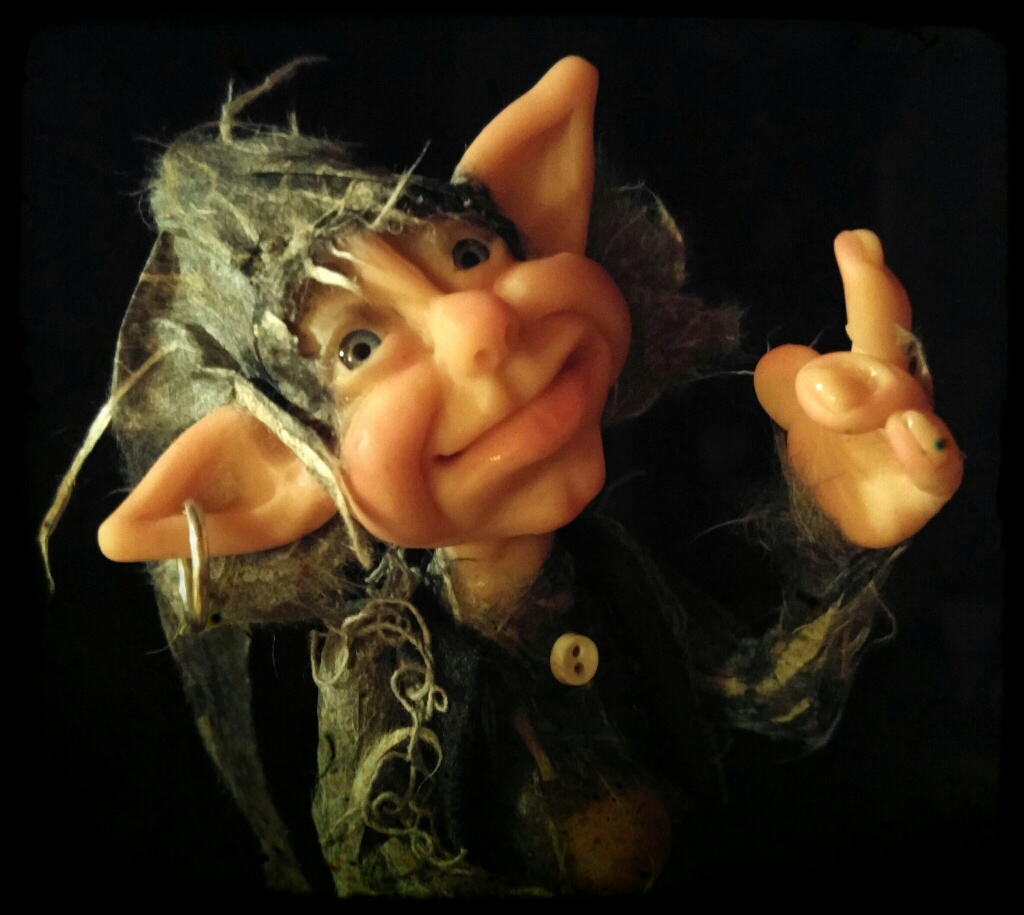 Please bear with me........I will be adding new dolls soon !
---
Heather is as sweet as can be. She is getting up there in age and walks with a cane but still one of the wisest imps in the forest.


Heather is $48

with her worn out shoes
and little spindly legs,
she stands 10"H x 6"W and
she's on a 4" base.
---
The Sweets Shop

This cute little elf is Mr. Sweets.
Yep, Sweets is his last name.
What elfin forest doesn't have a sweet shop?

$68

14" H x 12" W
---
This little elfin goat is ready to send her mail out. After collecting her favorite stones, she has to let everyone know about them.

Baabs is $60

11" H x 7" W
---
I just call this little fairy, Blue, for obvious reasons. As she very delicately lands on one foot, she quickly takes time to smell a flower, before taking off again.

Blue is $52

12" W x 3 1/2" D x 7 1/2" H
---
Stitch is one of the Imps
of the forest and as his name indicates,
he can sew up a storm.
He loves it when campers leave stuff behind, like buttons and scraps of material.

Stitch is $48

 
---
Bob is the elf you go to whenever you need something.
Sitting with his basket of flowery pine cones and mushtooms, he is ready for any conversation. He's very sweet and has wonderful stories to tell.

He is a very large elf and is $89

Bob is
19 1/2" H x 12"W x 12"D (excluding hat)
---
Sweet old Eugenia has hiked down from the mountain. She comes down twice a month for supplies. She now uses a walking stick, because after all, she is 216 years old.

-SOLD-
---
Jewel has been collecting stones and stringing them for years.

She is very cute, standing at only 11 1/2" tall and wearing her denim cape.
With her bag of stones at her feet, she will make you smile when you see her.

$50
---
Snoz is such a sweet little guy. He is always out collecting a particular type of tiny stone that helps in all kinds of healing.

-SOLD-

Snoz in now living in Sedona, AZ
---
Eli is always ready to eat.

$52

He may look angry, but he's as sweet as can be, once you feed him.

Eli is 10 1/2" H X 8" W
---
This is Isabella
the forest fortune teller.

She has a tiny booth under the mushrooms, so be extra careful when taking a walk in the forest.

Isabella is $53.00

8 1/2" H x 7" W x 5" D
---
This little guy may not be much to look at, but he's very sweet.

Lumier the Cajun,
lives down by the bayou. He waits for the other Imps and Elves of the swamp to cross, on their tiny home made boats or floating leaves.
When they cross at night, he lights the lantern and waves it high in the air, with his long, skinny fingers, to show them the way.

Lumier the Cajun
is a larger piece and sitting, he is
18"H x 10"W x 7"D

-SOLD-
---
This tiny imp is taking a nap in the bird feeder, so be careful when you are changing the seed. You never know where these little guys will turn up.

$38
---
Fred the fairy is one cool little dude. Humans think he's a fuzzy moth, fluttering around, but it's just Fred.

$48

9 1/2"H x 7"W
(height does not include his antennae)
---
Oakley

This very sweet forest guide, waits at the edge of Fern Ridge. He greets Imps from other tribs and guides them through the forest.

Oakley is one of the
larger elfin creature.
17.5"H x 9"W x 11"D

Holding his walking stick
and a compass.

Sorry
Oakley is Sold



---
Meet Elloit

He's a small little fairy that loves to collect mushrooms.
Watch out where you swat, he's fast and you'll never see him coming.

Sorry, Elloit is SOLD
---
This is Gobbie

Who could resist that face?

Gobbie the Goblin is hanging out with the rest of the goblins in the pumpkin patch.

-SOLD-
---
---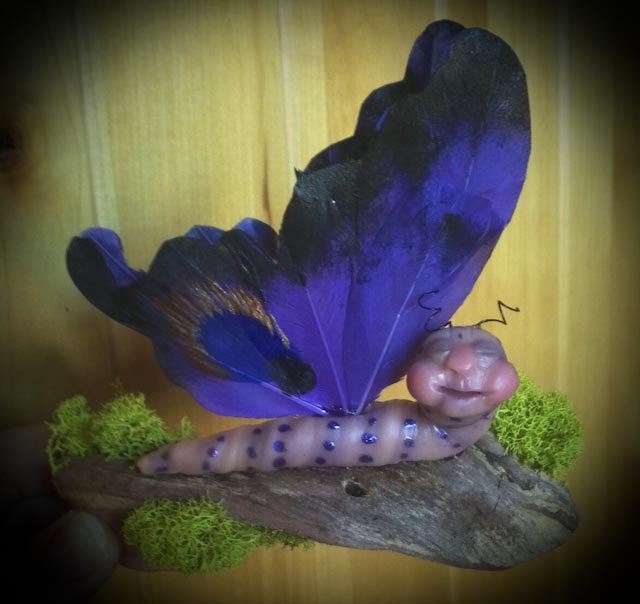 ---
Other

L
I
N
K
S

Other

L
I
N
K
S